Gainesville Water Softeners
Living in Gainesville?- Get Clean Water.
Uncover the unexpected in North Central Florida! Gainesville isn't like any other place in Florida. Our combination of college-town vitality and pr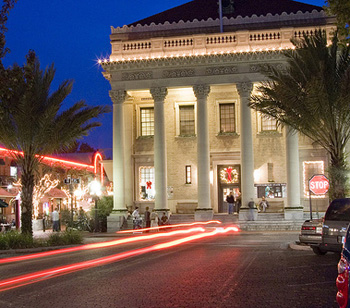 otected natural beauty makes us one of a kind—a place "where nature and culture meet." Gainesville offers 30+ miles of biking and hiking trails while spotting wildlife like birds, bison, wild horses or alligators in seven area Florida State Parks. Canoe or paddleboard our scenic rivers, or take a dive into one of our crystal clear freshwater springs. Floating down the spring-fed river at Ichetucknee Springs State Park is a can't miss warm-weather tradition.
Spend your afternoon antiquing in Gainesville's surrounding small towns, and then grab a bite downtown at some of the best local farm-to-fork dining around. Wash it all down with a beverage from one of our four local breweries, and catch some theater or local music before calling it a day. A rich melting pot, Gainesville is full of vibrant, college town fun, inexpensive and often free attractions for the family and peaceful, relaxed outdoor experiences for those seeking a slower pace. Whatever your passion, the nature and culture of Gainesville and Alachua County await. Photo by Grlantrn13, Public domain, via Wikimedia Commons
---
We are a Family Owned Company
We are a WQA certified, family owned company, specializing in drinking water systems - such as reverse osmosis water systems - that are cutting edge and will have your water tasting wonderful.
Do you have smelly water?
Hard or smelly water can disrupt anyone's life. We at Kinetico by Central Florida Water Processing Systems work hard to bring you water purification through innovative, maintenance free home water systems, allowing you to enjoy your water and enjoy your life. Don't put off having the best water systems in Central Florida; call Kinetico by Central Florida Water Processing Systems today.
We know Water Treatment!
It doesn't matter if you need a water filter for better drinking water, an innovative and effective water softener to take care of hard water, or any other water filtration system. Dial (800) 817-6003 and we will help you see how water treatment can help change your life. We accept payment by Visa, Mastercard, Discover, American Express, cash, check, and PayPal, and have discounts available.
We're Here for the Long Run
Serving Central Florida Since 1987
Call Us:
(800) 817-6003 Or Email Us at
cfwpwater[at]aol.com
Wow, all my glasses and pots are sparkling.

- Mary Flanners, Ocala

I can't drink tap water anymore, I'm spoiled!.

- Sara Chelton

Very clear, fine tasting water... no expensive electric bills... and my sink is immaculate!

- Ann Taylor, Sanibel, The Villages
Kinetico Home Water Systems are third-party certified to perform as promised and are backed by one of the longest and most comprehensive warranties in the industry.